<![if !vml]>

<![endif]><![if !vml]>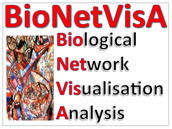 <![endif]>
BioNetVisA 2016 workshop
From biological network reconstruction to data visualization and analysis in molecular biology and medicine
4 September 2016
Room: Oceania Foyer
Churchillplein 10
2517 JW The Hague
The Netherlands
---
Downloads
Program and abstracts booklet 2016 Presentation slides 2016
---
This year BioNetVisA and LogicBio workshops have been fused. The speakers of the Session 3 entitled ŌModelling of biological networksÕ were selected from the abstracts submitted to the LogicBio workshop.
Organizers and program co-chairs of LogicBio workshop:
Laurence Calzone (Institut Curie, Paris, Fance)
Pedro T. Monteiro (INESC-ID, Lisbon, Portugal)
Visit https://logicbio.sciencesconf.org for full list of the organizing committee members and details on the LogicBio workshop.
---
BioNetVisA Motivation
BioNetVisA workshop brings together different actors of network biology from database providers, networks creators, computational biologists, biotech companies involved in data analysis and modeling to experimental biologists, clinicians that use systems biology approaches. The participants are exposed to the different paradigms of network biology and the latest achievements in the field.
---
The goal of BioNetVisA workshop is to build a discussion around various approaches for biological knowledge formalisation, data integration and analysis; compatibility between different methods and biological networks resources available the field; applicability for concrete research and clinical projects depending on scientific question and type of high-throughput data.
The BioNetVisA workshop aims at identifying bottlenecks and proposing short- and long-term objectives for the community as discussing questions about accessibility of available tools for wide range of user in every-day standalone application in biological and clinical labs. In addition, the possibilities for collective efforts by academic researchers, clinicians, biotech companies and future development directions in the field will be discussed during the round table panel.
---
BioNetVisA Program
Session 1
Development of biological network databases and platforms
Chair: Robin Haw (Ontario Institute for Cancer Research, Toronto, Canada)
09.00-09.25
Comprehensive representation of disease mechanisms
Alexander Mazein (European Institute for Systems Biology and Medicine, Lyon, France)
09.25-09.40
Reactome: a curated knowledgebase of biomolecular pathways
Antonio Fabregat (EMBL_EBI, Germany)
09.40-09.55
Computational reconstruction of NFkB pathway interaction mechanisms during prostate cancer
Daniela Bšrnigen (Harvard University, Boston, USA)
09.55-10.10
LitPathExplorer: A visual tool for exploring literature-enriched pathway models
Axel J. Soto (University of Manchester, Manchester, UK)
10.10-10.30
Posters flash presentations
Nicolas Alcaraz (University of Southern Denmark, Odense, Denmark)
Markus List (University of Southern Denmark, Odense, Denmark)
Anna Zhukova (Institut Pasteur CNRS – Paris, France)
smund Flobak (Norwegian University of Science and Technology, Trondheim, Norway)
Martina Kutmon (BiGCaT, NUTRIM, Maastricht University, The Netherlands)
Martin Schaefer (The Barcelona Institute of Science and Technology, Barcelona, Spain)
Adrien FaurŽ (Yamaguchi University, Yamaguchi City, Yamaguchi, Japan)
10.30-11.00 Posters and Coffee break (Foyer, ground floor)
11.00-11.40
Keynote lecture
A systems approach to immune inter-cellular communication: from a cell-centric view to the complexity of the tumor microenvironment
Vassili Soumelis (Institut Curie, Paris, France)
Session 2
Data visualisation and analysis in the context of biological networks in research and medicine
Chair: Lodewyk Wessels (Netherlands Cancer Institute, Amsterdam, Netherlands)
11.40-12.05
Network-based approaches to defeat cancer: quantifying module activity
Emmanuel Barillot (Institut Curie, Paris, France)
12.05-12.30
A refreshing look at Reactome Functional interation Network
Robin Haw (Ontario Institute for Cancer Research, Toronto, Canada)
12.30-13.30 Lunch (Foyer, ground floor)
13.30-13.55
Metabolic Networks: Visual Analysis of Elementary Flux Modes
Marie Beurton-Aimar (UniversitŽ Bordeaux 1, Bordeaux, France)
13.55-14.35
Keynote lecture
Integrative network-based analysis for subtyping and cancer driver identification
Kathleen Marchal (Ghent University, Ghent, Belgium)
14.35-15.30 Posters and Coffee break (Foyer, ground floor)
Session3
Modelling of biological networks
Chair: Marie Beurton-Aimar (UniversitŽ Bordeaux 1, Bordeaux, France)
15.30-15.45
In silico knockout experiments based on Petri net models
Jennifer Scheidel (Johann Wolfgang Goethe-University Frankfurt am Main, Frankfurt am Main, Germany)
15.45-16.00
Modelling of T cell co-inhibitory pathways to predict anti-tumour responses to checkpoint inhibitors
CŽline Hernandez (IBENS, Paris, France)
16.00-16.15
Constructing and analyzing disease-specific or developmental stage-specific transcription factor and miRNA co-regulatory networks
Maryam Nazarieh (Saarland University, CBI, Saarbrucken, Germany)
16.15-16.30
Predictive logical modelling of TLR5 and TCR cooperation for CD4 T cell activation
Otoniel Rodr'guez-Jorge (CIDC, Mexico and IBENS, Paris, France)
16.30-16.55‎
Logic models to predict continuous outputs based on binary inputs with an application to personalized cancer therapy
Theo Knijnenburg (Institute for Systems Biology, Seattle, USA)
---
BioNetVisA Registration
The registration has to be performed via ECCB website
---
BioNetVisA Organising Committee
Inna Kuperstein (Institut Curie, France)
Emmanuel Barillot (Institut Curie, France)
Andrei Zinovyev (Institut Curie, France)
Hiroaki Kitano (Okinawa Institute of Science and Technology Graduate University, RIKEN Center for Integrative Medical Sciences, Japan)
Minoru Kanehisa (Institute for Chemical Research, Kyoto University, Japan)
Samik Ghosh (Systems Biology Institute, Tokyo, Japan)
Nicolas Le Novre (Babraham Institute, UK)
Robin Haw (Ontario Institute for Cancer Research, Canada)
Alfonso Valencia (Spanish National Bioinformatics Institute, Madrid, Stain)
Lodewyk Wessels (Netherlands Cancer Institute, Amsterdam, Netherlands)
---
---
Downloads
Program and abstracts booklet 2014 Presentations 2014
Program and abstracts booklet 2015 Presentations 2015
---
Contact us
---
BioNetVisA Sponsors
<![if !vml]>

<![endif]> <![if !vml]>

<![endif]> <![if !vml]>

<![endif]>